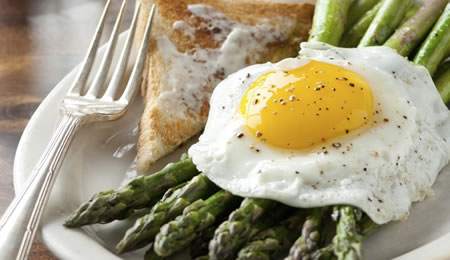 Ingredients

1 bunch asparagus, woody ends trimmed
Cooking spray
2 Eggland's Best large eggs
1 tablespoon olive oil (optional)
1 teaspoon Parmesan cheese (optional)
1 teaspoon breadcrumbs (optional)
1/4 cup chopped red peppers (optional)

Directions

Fill medium saucepan with water and bring to a boil. Submerge asparagus and cook for approximately 2 minutes, maintaining a bright green color and slight crunch. Immediately remove asparagus and shock it in a bowl of ice water. Reserve.
Coat medium size skillet with cooking spray. Crack two Eggland's Best eggs into pan and cook over medium heat until the whites set and the edges of the eggs are cooked.
Place asparagus on plate, making an even layer. Remove eggs from the pan using a slotted spatula and place on top of asparagus. Top with a drizzle of olive oil and garnish with Parmesan cheese, bread crumbs or red peppers, if desired. Can also be served on two pieces of whole wheat toast.

Recipe Yield: Yield: 2 servings
Nutritional Information Per Serving:
Calories: 135
Fat: 11 grams
Saturated Fat: 5 grams
Fiber: 1 grams
Sodium: 86 milligrams
Cholesterol: 176 milligrams
Protein: 7 grams
Carbohydrates: 2 grams


Source: Eggland's Best