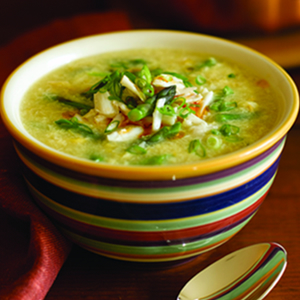 Ingredients

1-1/2 pounds fresh asparagus
1/4 cup water
4 cups fat-free, low-sodium chicken broth
1 (15-ounce) can no-salt-added cream-style corn
2 teaspoons low-salt soy sauce
1/2 teaspoon salt
2 tablespoons cornstarch
2 tablespoons cold water
Egg substitute equivalent to 3 eggs, or 3 large eggs
2 (6-ounce) cans crabmeat, rinsed and drained
1/2 teaspoon toasted sesame oil
6 medium green onions (green part only), finely chopped
Chili garlic sauce to taste (optional)

Directions

Trim the asparagus and cut into 1-inch pieces. Put in a microwave-safe dish with 1/4 cup water. Microwave, covered, on 100 percent power (high) for 5 minutes, or until tender-crisp. Don't overcook. Drain well.
In a large saucepan, bring the broth to a boil over high heat. Stir in the corn, soy sauce, and salt. Return to a boil. Meanwhile, put the cornstarch in a cup. Add 2 tablespoons water, stirring to dissolve. Pour into the broth mixture, stirring constantly.
Pour the egg substitute into the boiling soup in a thin stream. Remove from the heat.
To serve, spoon 1/2 cup asparagus into each bowl. Ladle the broth mixture over each serving. Top with the crabmeat and sesame oil. Sprinkle the green onions over each serving.
Serve the chili garlic sauce on the side.
Notes:
This Cantonese-style soup is practically a meal in itself.

Recipe Yield: Yield: 8 servings
Content Continues Below ⤵ ↷
Nutritional Information Per Serving:
Calories: 138
Fat: 1 grams
Sodium: 278 milligrams
Cholesterol: 38 milligrams
Protein: 15 grams
Carbohydrates: 17 grams


Source: Reprinted with permission from The New American Heart Association Cookbook, Seventh Edition, Copyright 2004 by the American Heart Association. Published by Clarkson Potter/Publishers.