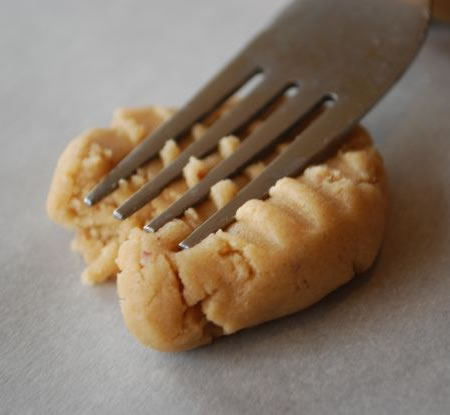 Ingredients

1 cup whole-wheat pastry flour
3/4 cup oat flour
Sugar substitute equal to 1/4 cup sugar
3/4 teaspoon baking soda
3/4 teaspoon baking powder
2/3 cup peanut butter
1/4 cup plus 2 tablespoons margarine or butter
3/4 cup light brown sugar
1/4 cup fat-free egg substitute
2 tablespoons pure maple syrup
1 teaspoon vanilla extract

Directions

Preheat oven to 350 degrees F.
Combine the flours, sugar substitute, baking soda, and baking powder in a bowl and stir to mix well. Set aside.
Combine the peanut butter, margarine, and brown sugar in a large bowl and beat with an electric mixer to mix well. Beat in the egg substitute, maple syrup, and vanilla extract. Add the flour mixture to the peanut butter mixture and beat to mix well.
Shape level teaspoonfuls of the dough into balls and arrange 1-1/2 inches apart on ungreased baking sheets. Flatten each cookie to 1/4 -inch thickness by crisscrossing with the tines of a fork. Dip the tines of the fork lightly in sugar between each cookie if desired.
Bake for 10 to 12 minutes, until the bottoms of the cookies are golden brown. Remove the cookies and let sit for 2 minutes. Transfer the cookies to wire racks to cool completely.

Recipe Yield: Yield: 40 cookies``Serving size: 1 cookie
Nutritional Information Per Serving:
Calories: 77
Fat: 4 grams
Saturated Fat: 0.7 grams
Fiber: 0.9 grams
Sodium: 82 milligrams
Protein: 2 grams
Carbohydrates: 9 grams

Content Continues Below ⤵ ↷
Diabetic Exchanges
1/2 Carbohydrate, 1 Fat

Source: The Complete Diabetes Prevention Plan
Book Title: The Complete Diabetes Prevention Plan