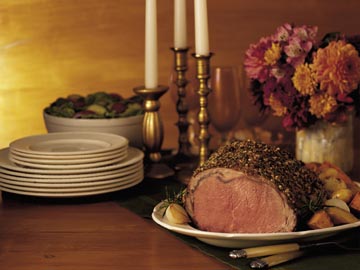 Ingredients

1 beef ribeye roast, small end, (about 4 to 6 pounds)
2 tablespoons vegetable oil
3 to 4 medium baking potatoes, cut into quarters (about 4-1/2 cups)
2 large sweet potatoes, cut in half, then cut into quarters (about 4-1/2 cups)
4 to 5 small onions, cut in half (about 3 cups)

Seasoning:

3 tablespoons minced fresh rosemary or 1 tablespoon dried rosemary
6 cloves garlic, minced
1-1/2 teaspoons salt
1-1/2 teaspoons dry mustard
1-1/2 teaspoons cracked black pepper

Directions

Heat oven to 350F. Combine seasoning ingredients; press 3 tablespoons mixture evenly onto all surfaces of beef roast. Combine remaining seasoning mixture with oil in large bowl; set aside.
Place roast, fat side up, on rack in shallow roasting pan. Insert ovenproof meat thermometer so tip is centered in thickest part of beef, not resting in fat. Do not add water or cover. Roast in 350F oven 1-3/4 to 2 hours for medium rare; 2 to 2-1/2 hours for medium doneness.
Meanwhile add vegetables to seasoning mixture in bowl; toss to coat. Transfer vegetables to metal baking pan. Place in oven with beef roast and roast 1-1/2 to 2 hours or until vegetables are tender, stirring once.
Remove roast when meat thermometer registers 135F for medium rare; 150F for medium. Transfer roast to carving board; tent loosely with aluminum foil. Let stand 15 to 20 minutes. (Temperature will continue to rise about 10F to reach 145F for medium rare; 160F for medium.)
Carve roast into slices. Serve with vegetables.

Recipe Yield: Makes 8 to 10 servings
Content Continues Below ⤵ ↷
Nutritional Information Per Serving:
Calories: 403
Fat: 14 grams
Saturated Fat: 4 grams
Fiber: 3.7 grams
Sodium: 54 milligrams
Cholesterol: 91 milligrams
Protein: 41 grams
Carbohydrates: 28 grams


Source: TBC
Recipe and photo appears courtesy of Cattlemen's Beef Promotion Board.