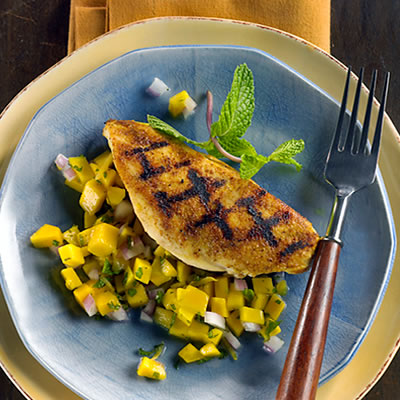 Ingredients

1 tablespoon canola oil
1 teaspoon curry powder
1 teaspoon sugar
1/2 teaspoon coarsely ground black pepper
1/4 teaspoon salt
4 boneless, skinless chicken breast halves (4 ounces each), rinsed, patted dry and flattened to 1/2-inch thickness
Canola oil cooking spray
1 lemon, cut into quarters

Salsa

1 cup finely chopped mango
2 to 3 tablespoons chopped fresh mint leaves
1 teaspoon grated fresh ginger
2 tablespoons finely chopped red onion
1/2 teaspoon lemon zest
1 tablespoon fresh lemon juice
1 teaspoon canola oil

Directions

Combine 1 tablespoon canola oil, curry powder, sugar, pepper and salt. Brush over chicken and let marinate for 15 minutes.
Meanwhile, stir together salsa ingredients in a small bowl.
Coat a grill pan with canola oil cooking spray and place over medium-high heat until hot. Add chicken, discarding any marinade. Cook chicken 4 minutes on each side or until no longer pink inside and juices run clear. Transfer to a serving platter. Squeeze lemon juice over chicken; serve with salsa.
Notes:
This dish offers a medley for flavours. Using salsa in place of more salt lowers the sodium content and boosts taste!
Content Continues Below ⤵ ↷

Recipe Yield: Yield: 4 servingsServing size: 1 chicken breast and 1/4 cup salsa
Nutritional Information Per Serving:
Calories: 205
Fat: 7 grams
Sodium: 175 milligrams
Cholesterol: 65 milligrams
Protein: 25 grams
Carbohydrates: 11 grams

Diabetic Exchanges
1 fruit, 3 lean meat, 1/2 fat

Source: The Heart-Smart Diabetes Kitchen: Fresh, Fast and Flavorful Recipes Made with Canola Oil
Book Title: The Heart-Smart Diabetes Kitchen: Fresh, Fast and Flavorful Recipes Made with Canola Oil