Ginger Recipes
Home / Diabetic Recipe Archive / Vegetable Recipes
Ginger Recipes
Ginger is an ingredient with a lot of personality! Whether it's just being served alongside sushi or having the starring role in ginger ale and gingerbread cookies, it has a uniqueness all it's own. This area features recipes that include ginger in many of it's commonly found forms – such as ginger root, ginger powder and pickled ginger. Notably used to treat nausea and upset stomach, studies also suggest that ginger may improve long-term blood sugar control for those with type 2 diabetes. All recipes include nutritional information to make meal planning for diabetes easier.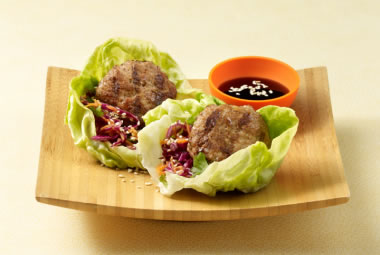 Recipe for Ginger & Lemongrass Turkey Sliders from our Sandwiches recipe section.
Most Downloaded Recipes in this Collection
All Recipes from this Category

An easy to prepare chicken skillet dish that gives you the option of using fresh or frozen vegetables. It's flavored with a ginger-soy sauce and can be served over brown rice. Recipe for Gingered Chicken with Vegetables from our recipe section.

View / Load More from: Ginger Recipes