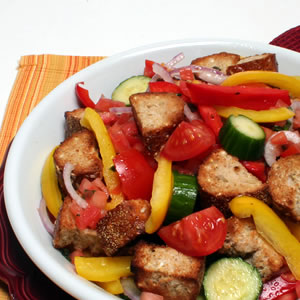 Ingredients

4 garlic cloves, minced
1/2 tsp. Dijon mustard
2 Tbsp. white wine vinegar
1/4 cup extra virgin olive oil
Salt and freshly ground pepper to taste
15 fresh basil leaves, chopped coarsely
1 medium cucumber, seeded (or English cucumber) washed, sliced into 1/2-inch pieces
3 large ripe tomatoes, cut into 1-inch cubes
2 Tbsp. green olives, pitted and chopped (capers may be substituted)
1 medium red bell pepper, seeded and quartered
1/2 large red onion, cut in half and then 1/4 inch slices
1/2 small loaf crusty whole-grain French or Italian bread, cut into 1-inch slices, halved

Directions

In mixing bowl whisk garlic, mustard, vinegar, oil, salt and pepper and set aside.
In large bowl gently combine basil, cucumber, tomatoes and olives.
Brush bell peppers and onion slices on one side with oil mixture. Place oil side down on hot grill and cook for 3-4 minutes. Brush other side with oil mixture, turn over and cook an additional 3-4 minutes.
Remove from grill. On cutting board, slice peppers into 1/2-inch slices and separate onion rings. Add to vegetables. Add oil mixture and toss to coat.
Toast both sides of bread until nicely browned.
On a serving platter layer bread and top with vegetables and basil mixture. Toss bread with vegetables if desired. Serve.

Recipe Yield: Makes 6 servings.
Nutritional Information Per Serving:
Calories: 193
Fat: 11 grams
Saturated Fat: 2 grams
Sodium: 187 milligrams
Protein: 4 grams
Carbohydrates: 22 grams