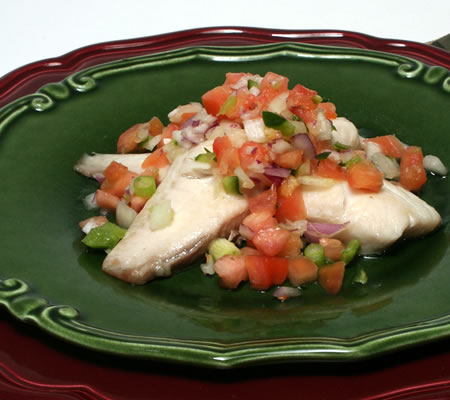 Ingredients

3 vine-type tomatoes, halved and seeded
1/2 cup finely chopped red onion
1/2 cup chopped scallions, green part only
1/2 cup finely chopped sweet onion
2 Tbsp. very finely chopped shallot
1 small jalapeno pepper, seeded and finely chopped
Juice of 1 Valencia (juice) orange
1 Tbsp. fresh lime juice
Salt and ground black pepper
4 (6-ounce) pieces tilapia, halibut or cod filet
2 Tbsp. extra virgin olive oil

Directions

Preheat oven to 450 degrees F.
In mixing bowl, combine tomato, red onion, scallions, sweet onion, shallot and jalapeno. Add the orange and lime juice. Season to taste with salt and pepper, and set aside for 20 minutes for flavors to develop. Makes 3 cups salsa.
Season fish lightly with salt and pepper. Set medium skillet that can go into oven over medium-high heat on top of stove. When hot, add oil and immediately place filets into hot pan. Cook until fish is lightly browned on the bottom, 2 to 3 minutes. Using wide spatula, turn fish. Slide pan into oven.

Content Continues Below ⤵ ↷

Cook until filet flakes easily and is white in the center at widest point, about 2 minutes for tilapia, 3 to 4 for halibut and cod, depending on the thickness of the filets. Place a piece of fish on each of 4 dinner plates. Spoon one-fourth of salsa alongside fish and serve.

Recipe Yield: Makes 4 servings
Nutritional Information Per Serving:
Calories: 230
Fat: 8 grams
Saturated Fat: 1 grams
Fiber: 2 grams
Sodium: 85 milligrams
Protein: 27 grams
Carbohydrates: 0 grams