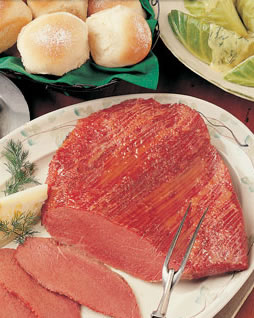 Ingredients

4 pounds Certified Angus Beef fresh corned beef brisket with seasoning packet
1 1-inch cinnamon stick
2 bay leaves
6 carrots, peeled and halved
12 coriander seeds
1 large head cabbage, cut into 8 wedges
2 onions, halved and stuck with 2 cloves each
12 peppercorns, crushed
3 sprigs fresh parsley
3 quarts water

Directions

Place corned beef and seasoning packet in large heavy pot; add water. Bring to a boil and simmer for 1 hour.
Add onions and carrots. Bring back to a boil and skim off fat.
Add remaining ingredients, reduce heat to medium-low and cover. Simmer approximately 2 to 4 hours until beef is tender. When brisket pierces easily, it is ready.
Drain the water, place brisket on a platter and let stand about 10 minutes.
Slice diagonally across the grain and serve with cabbage, carrots and onion.

Recipe Yield: Serves 8
Nutritional Information Per Serving:
Calories: 374
Fat: 11 grams
Fiber: 5 grams
Sodium: 1741 milligrams
Cholesterol: 103 milligrams
Protein: 49 grams
Carbohydrates: 15 grams


Source: TBC
Recipe and photo appears courtesy of Cattlemen's Beef Promotion Board.