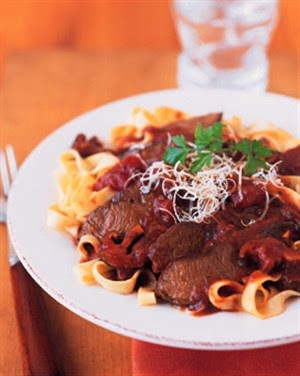 Ingredients

1-1/2 pounds beef Chuck Steaks, cut 1 inch thick
1/2 teaspoon salt
1/4 teaspoon pepper
1/4 cup grated Parmesan cheese
4 cups (8 ounces) sliced mixed wild mushrooms such as crimini, shiitake, oyster
1 medium onion, chopped
3 cloves garlic, chopped
1 cup dry red wine or beef broth
1 jar (26 ounces) fire roasted tomato and garlic sauce or any prepared spaghetti sauce
1 package (12 ounces) fresh fettuccine, cooked
1/4 cup grated Parmesan cheese

Directions

Season steaks with salt and pepper. Press 1/4 cup Parmesan cheese evenly onto steaks. Spray large nonstick skillet with nonstick cooking spray. Heat over medium-high heat until hot. Place steaks in skillet; brown evenly. Remove.
Spray same pan with cooking spray and heat over medium heat until hot. Add mushrooms, onion and garlic; cook and stir 4 to 5 minutes or until tender. Add wine; cook and stir 3 minutes. Stir in sauce. Return steaks to skillet; bring to a boil. Reduce heat; cover tightly and simmer 1-1/4 to 1-3/4 hours or until beef is fork-tender.
Carve steaks into slices. Serve beef and 2 cups sauce over pasta; sprinkle with 1/4 cup cheese. Pass remaining sauce.

Recipe Yield: Makes 4 servings.
Nutritional Information Per Serving:
Calories: 412
Fat: 12 grams
Saturated Fat: 4 grams
Sodium: 991 milligrams
Cholesterol: 114 milligrams
Protein: 42 grams
Carbohydrates: 23 grams


Source: TBC
Recipe and photo appears courtesy of Cattlemen's Beef Promotion Board.