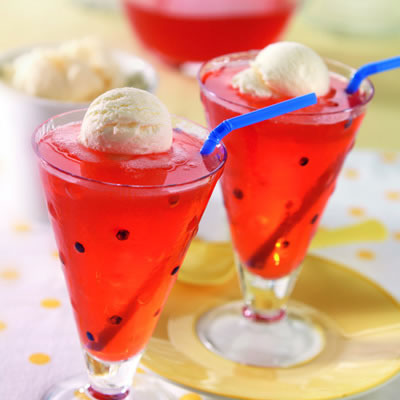 Ingredients

1 quart cold water
2 cups light white grape juice, chilled
1 cup Splenda No Calorie Sweetener, Granulated
1 package your favorite flavor Kool-Aid Unsweetened Soft Drink Mix
2 cups seltzer water, chilled
2 cups no-sugar-added light vanilla ice cream

Directions

Combine water, grape juice, Splenda Granulated Sweetener, and Kool-Aid Soft Drink Mix in a pitcher, stirring until Splenda Granulated Sweetener dissolves.
Pour 3/4 cup of the mixture into each of 8 tall glasses; add 1/4 cup of the seltzer to each glass.
Top each serving with 1/4 cup of the ice cream. Serve immediately.
Store leftover prepared drink in refrigerator.

Recipe Yield: Yield: 8 servingsServing Size: 1 (8 oz.) drink
Nutritional Information Per Serving:
Calories: 70
Fat: 2.5 grams
Saturated Fat: 1.5 grams
Sodium: 85 milligrams
Cholesterol: 5 milligrams
Protein: 2 grams
Carbohydrates: 11 grams
Sugars: 7 grams


Source: Splenda
Recipe and image appear courtesy of Splenda.