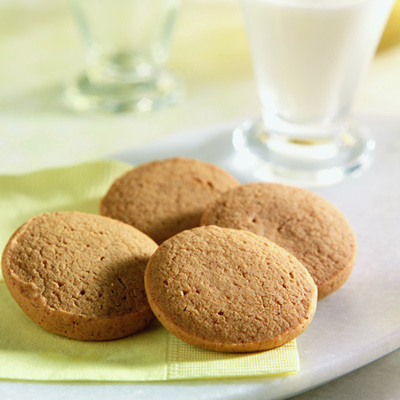 Ingredients

2/3 cup Splenda No Calorie Sweetener, Granulated
3/4 cup sugar
2/3 cup unsalted butter
1/3 cup molasses*
2 tablespoons canola oil
1/4 cup egg substitute
3 1/4 cups all-purpose flour
2 teaspoons baking soda
8 teaspoons ground ginger
1/2 teaspoon ground cloves
2 teaspoons cinnamon

*Use Robust Molasses for a more robust molasses flavor.

**Cookie Dough can also be rolled out and cut into circles or shapes.

Directions

Mix Splenda Granulated Sweetener, sugar, butter, molasses and oil together in a medium mixing bowl. Mix on medium speed until creamy. Scrape sides of the bowl. Add egg and mix well. Add remaining ingredients and mix until blended.
Divide dough in half. Roll into logs approx. 1 1/2 inches wide and 14 inches long. Cover with plastic wrap and refrigerate for 3 hours or freeze for 1 1/2 hours or until firm.
Preheat oven to 350 degrees F. Lightly oil cookie sheets.
Slice cookies approx. 1/4 inch thick. ** Place on prepared sheets.
Bake 10-12 minutes or until bottoms are lightly browned.
Notes:
Enjoy the aroma of these heavily spiced ginger cookies while they bake. For best results, allow to cool for a few hours in the fridge.

Recipe Yield: Yield: 36 servings``Serving Size: 2 cookies
Content Continues Below ⤵ ↷
Nutritional Information Per Serving:
Calories: 110
Fat: 4.5 grams
Saturated Fat: 2 grams
Sodium: 75 milligrams
Cholesterol: 10 milligrams
Protein: 2 grams
Carbohydrates: 16 grams
Sugars: 7 grams


Source: Splenda
Recipe and image appear courtesy of Splenda.