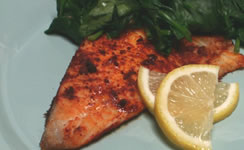 Ingredients

2 tsp. ground cumin
2 tsp. sweet Spanish paprika
1 tsp. ground coriander
1/2 tsp. salt
1/2 tsp. ground black pepper
Pinch of cayenne pepper
1 lb. (about 4 pieces) tilapia
Cilantro or parsley for garnish

Directions

Preheat oven to 400 degrees F. Coat baking sheet with cooking spray and set aside.
In small bowl, whisk together cumin, paprika, coriander, salt, black pepper and cayenne until combined. Pat pieces of fish dry with paper towels. Coat fish on both sides with cooking spray, and place on the baking sheet. Sprinkle each filet liberally on both sides with spice mixture, using about one-quarter for each piece of fish.
Bake fish 12 to 15 minutes without turning, or until opaque white in center at thickest point and flakes easily. Serve immediately.

Recipe Yield: Makes 4 servings.
Nutritional Information Per Serving:
Calories: 110
Fat: 2 grams
Saturated Fat: 1 grams
Sodium: 350 milligrams
Protein: 23 grams
Carbohydrates: 0 grams


Source: Dana Jacobi