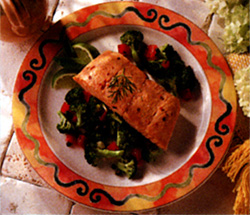 Ingredients

4 fresh California King Salmon fillets (six-ounce)

For Balsamic Marinade

1/3 cup olive oil
3 Tbsp. balsamic vinegar
3 Tbsp. seasoned rice wine vinegar
1 Tbsp. Dijon mustard
2 cloves of garlic, crushed
1/2 tsp. salt
1/4 tsp. coarsely ground pepper
1/4 tsp. crushed red pepper

For Vegetables

3/4 lbs.(about 4 cups) broccoli florets with 2-1/2 inch stems
1 cup roma tomatoes, diced
1/3 cup red onion, diced
2 Tbsp. capers
2 Tbsp. fresh basil leaves, chopped
2 Tbsp. fresh dill, chopped

Directions

Rinse salmon fillets and pat dry. Set the fillets aside.
Prepare Balsamic Marinade: In a small bowl whisk together oil, vinegar, mustard, garlic, salt, black and red pepper. Remove 1/4 cup marinade to baste the salmon while grilling or broiling.
For Vegetables: Steam broccoli about 5 minutes or until crisp-tender. Rinse with cold water. Place in a large bowl with tomatoes, onions, capers, basil, and dill. Pour remainder of marinade over the vegetables in a bowl and marinade.
To Finish: Grill or broil salmon and serve fish over room-temperature vegetables (prepared above).
Content Continues Below ⤵ ↷

Recipe Yield: Servings: 4
Nutritional Information Per Serving:
Calories: 455
Fat: 24 grams
Sodium: 487 milligrams
Cholesterol: 84 milligrams
Protein: 50 grams
Carbohydrates: 11 grams


Source: California Salmon Council