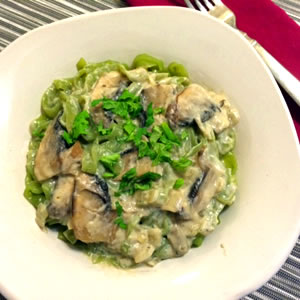 Ingredients

2 (8 oz) packages Skinny Noodles Spinach Fettuccine
2-3 Tbsp olive oil
1 large onion, diced
1 lb. portobello mushrooms, sliced
1-1/2 Cup vegetable broth
1 cup fat-free sour cream
2 Tbsp cornstarch
Salt and pepper to taste

Directions

Drain Skinny Noodles Spinach Fettuccine into a colander and rinse well with warm water. Drain and set aside.
Add olive oil to large skillet on medium heat. Stir in onion and cook until soft; turn heat up to medium-high, add mushrooms and cook until browned and limp. Remove to a bowl and set aside.
Add broth to the same skillet, stirring and mixing any onion/mushroom bits from skillet.
Bring to a boil and cook to reduce mixture by 30 percent.
Reduce heat and add back the mushroom/onion mixture.
Remove pan from heat.
Mix together the sour cream and cornstarch, and pour into the skillet to blend with the mushroom/onion mixture.
Return skillet to the burner, add salt and pepper to taste and stir until the sauce thickens.
Meanwhile, microwave drained Skinny Noodles Spinach Fettuccine for 2 minutes. Drain again and top with thicken sauce.

Recipe Yield: Yield: 4 servings
Nutritional Information Per Serving:
Calories: 180
Fat: 7 grams
Fiber: 5 grams
Cholesterol: 5 milligrams
Protein: 5 grams
Carbohydrates: 26 grams


Source: Skinny Noodles