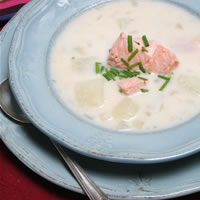 Ingredients

1/2 cup cannelini beans, rinsed and drained
1/4 tsp. mustard powder
1 large garlic clove, finely chopped
2 tsp. fresh lemon juice
2 Tbsp. light olive oil
1 onion, cut into 1/2-inch cubes
1 large yellow potato, peeled and diced
1 cup frozen baby lima beans
2/3 cup frozen yellow corn kernels
3/4 lb. skinless salmon filet, cut into 1-inch cubes
1 (8 oz.) bottle clam juice
1/2 cup nonfat evaporated milk
Salt and freshly ground black pepper, to taste
4 tsp. chopped chives

Directions

In a small food processor or blender, combine the beans, mustard powder, garlic and lemon juice. Puree until smooth, stopping as needed to scrape down the bowl. With the motor running, drizzle in the oil. The result will resemble a velvety mayonnaise. Set this bean puree aside.
In a large, deep saucepan, combine onion, potatoes and 1 1/4 cups water. Cover, and set the pot over medium-high heat. When the water boils, reduce the heat to medium and cook 7 minutes. Add the lima beans and corn; cook, covered, 3 minutes longer, until the potatoes are tender.
Add the fish, clam juice, bean puree and 1/2 cup water. Mix until the bean puree dissolves. Cook over medium heat, uncovered, until fish is opaque in the center and flakes easily, about 10 minutes.
Take the saucepan off the heat and stir in the milk. Season the chowder to taste with salt and pepper. Divide the soup among 4 wide, shallow bowls and garnish with chopped chives.

Recipe Yield: Yield: Makes 4 servings, 1 cup per serving.
Nutritional Information Per Serving:
Calories: 280
Fat: 11 grams
Saturated Fat: 2 grams
Fiber: 4 grams
Sodium: 280 milligrams
Protein: 18 grams
Carbohydrates: 27 grams