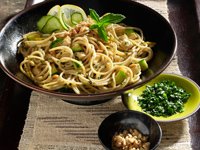 Ingredients

1 box Dreamfields Spaghetti
1 tablespoon peanut oil
3 tablespoons chopped unsalted peanuts
1 to 2 small Thai chiles, minced
1/4 cup water
3 tablespoons reduced-sodium soy sauce
2 tablespoons lemon juice
1 cup chopped hearts of palm
1/2 cup diced cucumber
1/4 cup chopped fresh cilantro leaves
2 tablespoons chopped fresh mint
1 tablespoon lemon zest
Fresh cilantro leaves (optional)
Chopped unsalted peanuts (optional)

Directions

Cook pasta according to package directions.
Meanwhile, heat oil in large skillet over medium heat. Cook peanuts and Thai chile 1 minute, stirring frequently. Stir in water, soy sauce and lemon juice. Cover and simmer 3 minutes.
Drain pasta. Add to skillet. Add hearts of palm, cucumber, cilantro, mint and lemon zest; toss to combine. Cook 3 minutes. Garnish with cilantro and peanuts, if desired.
Notes:
If Thai chiles are unavailable, seeded jalapeno chiles can be substituted.

Recipe Yield: Makes 6 side dish servings.
Content Continues Below ⤵ ↷
Nutritional Information Per Serving:
Calories: 281
Calories from fat: 54
Fat: 5 grams
Saturated Fat: 0.7 grams
Fiber: 6 grams
Sodium: 269 milligrams
Protein: 11 grams
Carbohydrates: 0 grams


Source: Dreamfields