Spaghetti Recipes
Home / Diabetic Recipe Archive / Pasta Recipes
Spaghetti Recipes
Spaghetti is a pasta shaped in long, thin strings and made from milled wheat. Italian spaghetti is made from durum wheat semolina and is a popular pasta that is used in many dishes. Per 1/2 cup serving, spaghetti provides 22 grams of carbohydrate, 1 gram of fiber and 110 calories. The spaghetti recipes in this section provide nutritional information to help with diabetic meal planning.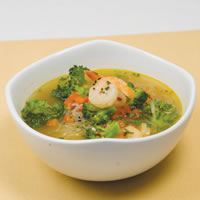 Recipe for Shrimp and Skinny Noodles Soup from our Soups recipe section.
Most Downloaded Recipes in this Collection
All Recipes from this Category

A favorite elegant luncheon or dinner party entree. The cream sauce balances well with the rich flavors of the Smoked Salmon. Salmon is a good source of Omega-3 fatty acids. Recipe for Spaghetti with Creamy Smoked Salmon Sauce from our Main Dishes recipe section.