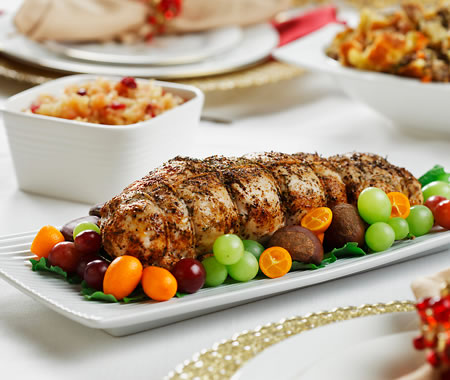 Ingredients

1/2 boneless, skinless turkey breast, about 1-1/2 lb (750 g)
1-1/2 cups Cornbread and Dried Fruit Dressing (375 mL)
1/4 tsp smoked paprika (1 mL)
1/4 tsp black pepper (1 mL)
1/4 tsp marjoram (1 mL)
1/4 tsp thyme (1 mL)
1/4 tsp sage (1 mL)
1 Tbsp canola oil (15 mL)

Need: kitchen twine and plastic wrap

Directions

Preheat oven to 350F (175C).
Place large piece of plastic wrap on countertop. Place turkey breast half on plastic and cover. Cover with additional plastic wrap. Using meat mallet, pound turkey to rectangle about 9-10 X 6 inches, about 1/4-inch thick.
Remove plastic wrap from top of turkey and spread dressing evenly lengthwise over surface, almost to edge. Roll turkey lengthwise. With kitchen twine, tie roulade lengthwise once and in several places across turkey. Discard plastic wrap.
In small bowl, mix together spices. Rub canola oil over all surfaces of roulade; rub spice blend evenly over roulade.
Place roulade in shallow roasting pan, then place in oven. Roast for 45 to 60 minutes or until internal temperature measured with an instant-read thermometer reads 155F (68C).
Remove roulade from oven and let rest 15 minutes before carefully removing twine and slicing into 16 half-inch slices. Serve with Porcini Mushroom Gravy, Warm Apple and Cranberry Sauce and extra Cornbread and Dried Fruit Dressing.
Notes:
This elegant turkey entree with stuffing offers a unique presentation of America's traditional holiday combination.

Recipe Yield: Yield: 8 servings.``Serving size: 2 slices (4 ounces).
Content Continues Below ⤵ ↷
Nutritional Information Per Serving:
Calories: 140
Fat: 3.5 grams
Saturated Fat: 0.5 grams
Sodium: 150 milligrams
Cholesterol: 65 milligrams
Protein: 222 grams
Carbohydrates: 5 grams