Thanksgiving Turkey Recipes
Home / Diabetic Recipe Archive / Holiday and Special Occasions / Thanksgiving Recipes / Thanksgiving Main Dishes
Thanksgiving Turkey Recipes
Turkey is the most popular meat served on Thanksgiving with almost 90% of all Americans serving it. This area features turkey recipes to serve on Thanksgiving – or with leftovers – and they all provide nutritional information to make diabetic meal planning easy.
Thanksgiving Turkey Recipes
Latest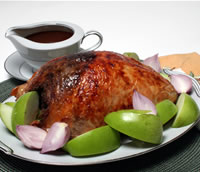 Recipe for Walnut-Stuffed Turkey Breast with Cider Gravy from our Main Dishes recipe section.
Most Downloaded Recipes in this Collection
All Recipes from this Category

Recipe for Roast Turkey Breast with Herb Stuffing from our Main Entree recipe section.