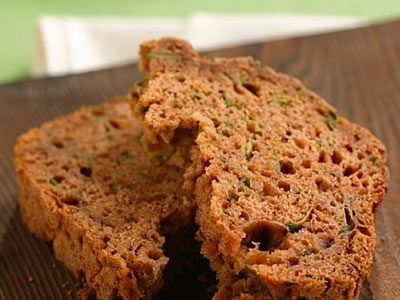 Ingredients

1-1/2 cups shredded zucchini
1-1/2 cups all-purpose flour
3/4 teaspoon baking powder
1/2 teaspoon baking soda
1 teaspoon ground cinnamon
1/2 teaspoon ground cloves
1/4 teaspoon salt
1/3 cup Splenda Sugar Blend
1/4 cup low-fat milk
1 large egg
2 tablespoons trans-free spread, melted
1 teaspoon vanilla extract

Directions

Preheat oven to 350 degrees F. Coat an 8 x 4-inch non-stick loaf pan with non-stick cooking spray.
Use paper towels to blot excess water from zucchini. Set aside.
In a large bowl, combine flour, baking powder, baking soda, cinnamon, cloves, and salt.
In another large bowl, whisk Splenda Sugar Blend, milk, egg, trans-free spread, and vanilla. Stir in zucchini. Add dry ingredients and mix just until moistened. (Batter will be lumpy.) Scrape into prepared pan.
Bake 35 to 45 minutes, or until a tester inserted in center comes out clean. Cool in pan 10 minutes. Remove to a wire rack; cool completely.

Recipe Yield: Yield: 10 servings
Nutritional Information Per Serving:
Calories: 130
Fat: 2.5 grams
Saturated Fat: .5 grams
Fiber: 1 grams
Sodium: 190 milligrams
Cholesterol: 20 milligrams
Protein: 3 grams
Carbohydrates: 22 grams
Sugars: 7 grams


Source: Splenda
Recipe and image appear courtesy of Splenda.