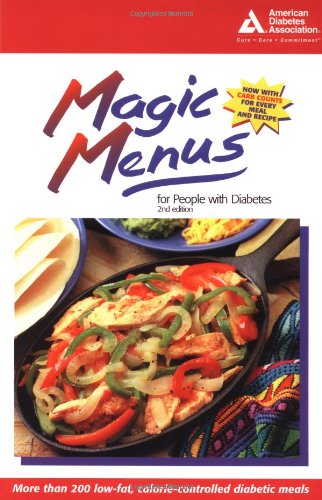 Here is a calorie/carbohydrate-controlled collection of delicious, hassle-free meals to make meal planning a breeze. Based on a 1,500-calorie-a-day menu, every breakfast, lunch, and dinner recipe balances the reader's meal plan perfectly.
Every mealspecific recipe includes the same number of carbs no matter which one readers pick--they get 45-60 grams for every breakfast, 60-75 grams for every lunch, and 70-85 grams for every dinner--which helps keep blood sugar levels stable.
Readers can mix and match recipes to their tastes. Includes more than 50 breakfasts, 50 lunches, 75 dinners, and 30 snacks. This new edition includes complete nutrition analysis and carbohydrate counts for every meal and recipe.
MAGIC MENUS FOR PEOPLE WITH DIABETES (2ND EDITION), is filled with more than 200 low-fat, calorie-controlled meals with recipes for your selection. Breakfast, Lunch, Dinner and Snack menus, complete with a total carbohydrate count for the meal, are included on each page. For example, one dinner menu with Bay Scallops Parmesan served with 1 small baked potato & reduced-fat sour cream, steamed zucchini, and a slice of Chocolate Angel Food Cake topped with 1-1/4 cups of fresh strawberries is served up for a total consumption of 64 Carbohydrates for the meal.
Content Continues Below ⤵ ↷
The recipe suggestions for each meal in MAGIC MENUS sound delicious. Each recipe has a nutritional analysis which includes calories, total fat, total carbohydrates, cholesterol, sodium, protein, dietary fiber and sugars. Exchanges are also included for those who are still on the Exchange system.
The downside to this tasty little book, however, is in the fact that it is so confusing and cumbersome to find those recipe analyses, which are NOT listed by recipe title or even by menu number or page number! They are found at the back of the book, in order of their appearance in the book (from front to back). This is especially discouraging to those of us who cook on the run and don't have time to look for each analysis in random order.
If this book is rendered again in a third Edition, I would strongly suggest that the editors include the nutritional analysis AND exchange information on the same page with each recipe. From personal experience I often search for a recipe at the last minute and I don't want to go on a hunting expedition to see if the fat, carbs and proteins of a recipe that catches my eye will fit into my daily meal plan at the end of the day! MAGIC MENUS FOR PEOPLE WITH DIABETES is published by the American Diabetes Association, Inc.
Book Details:
Author:

American Diabetes Association


Publisher:

McGraw-Hill


ISBN:

1580401732


View at: Amazon (see sale price)
Format:

Paperback: 220 pages