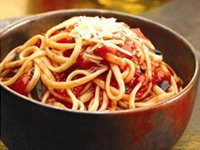 Ingredients

1 package Dreamfields Linguine
2 tablespoons extra virgin olive oil
3 large cloves garlic
1/2 cup chopped yellow onion
1/2 to 1 teaspoon crushed red chile peppers
1 tablespoon capers, drained and rinsed
1/3 cup pitted Kalamata olives, rinsed and cut in half
1 can (28-ounces) Italian plum tomatoes, chopped with juice
1/2 cup chopped Italian parsley leaves
1/3 cup freshly grated Parmesan cheese

Directions

Prepare pasta according to package directions.
Heat oil in a large skillet over medium-high heat. Cook garlic and onion for about 3 minutes, stirring frequently.
Add peppers, capers, olives, chopped tomatoes and parsley. Heat to boiling; reduce heat. Simmer uncovered for about 10 minutes or until slightly thickened.
Toss pasta with sauce until linguine is evenly coated. Sprinkle with Parmesan cheese.
Notes:
Fragrant red ripe Italian plum tomatoes give this sauce its wonderful flavor. The red peppers balance the tart and sweet tomatoes with a little heat.

Recipe Yield: Serves 6
Content Continues Below ⤵ ↷
Nutritional Information Per Serving:
Calories: 341
Fat: 11 grams
Fiber: 7 grams
Sodium: 564 milligrams
Cholesterol: 6 milligrams
Protein: 12 grams
Carbohydrates: 0 grams


Source: Dreamfields