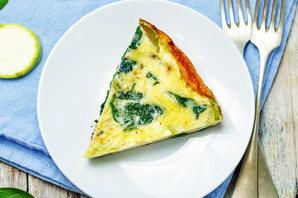 Ingredients
2 cups fat-free egg substitute
1/4 cup grated Parmesan cheese
1 tablespoon extra virgin olive oil
2 medium zucchini squashes, thinly sliced
1 medium yellow onion, thinly sliced
1 teaspoon crushed garlic
1/4 teaspoon salt
1/4 teaspoon ground black pepper
Directions
Preheat the oven to 350 degrees F. In a medium bowl, whisk together the eggs and Parmesan cheese and set aside.
Coat the bottom and sides of a large, nonstick, oven-proof skillet with cooking spray and add the olive oil. Add the zucchini, onions, garlic, salt, and pepper and saute over medium-high heat for several minutes, until tender. Spread the mixture evenly over the bottom of the skillet.
Pour the egg mixture over the vegetables. Cook without stirring for 3 minutes, until the bottom of the frittata is just set.
Place the frittata in the oven and bake uncovered for 12 to 15 minutes or until the eggs are set but not dry. Loosen the edges of the frittata and invert it onto a plate. Cut the frittata into 4 wedges and serve hot.

Recipe Yield: Yield: 4 servings
Nutritional Information Per Serving:
Calories: 139
Fat: 5.4 grams
Saturated Fat: 1.7 grams
Fiber: 1.4 grams
Sodium: 514 milligrams
Cholesterol: 5 milligrams
Protein: 7 grams
Carbohydrates: 7 grams

Content Continues Below ⤵ ↷
Diabetic Exchanges
2 Very Lean Meat, 1 Vegetable, 1 Fat

Source: The Complete Diabetes Prevention Plan
Book Title: The Complete Diabetes Prevention Plan