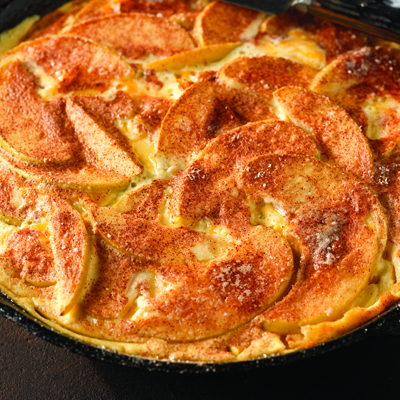 Ingredients

2 Tbsp. margarine, divided
3 Granny Smith apples (1 lb.), thinly sliced
1/2 cup Kraft 2% Milk Shredded Cheddar Cheese
1 oz. Philadelphia Neufchatel Cheese, softened
1/2 cup fat-free milk
1/2 cup flour
3/4 cup cholesterol-free egg product
1/4 cup Splenda No Calorie Sweetener, Granulated, divided
1/8 tsp. salt
1/2 tsp. ground cinnamon

Directions

Heat oven to 475F.
Melt 1 Tbsp. margarine in large nonstick skillet on medium heat. Add apples; cook 5 min. or until crisp-tender, stirring frequently. Spoon into 9-inch pie plate sprayed with cooking spray; top with Cheddar.
Whisk Neufchatel and milk in medium bowl until well blended. Add flour, egg product, 1 Tbsp. Splenda Granulated Sweetener and salt; mix well. Pour over apples. Sprinkle with combined remaining Splenda
Granulated Sweetener and cinnamon; dot with remaining margarine.
Bake 12 to 15 min. or until puffed and golden brown.

Recipe Yield: Yield: 6 servings
Nutritional Information Per Serving:
Calories: 180
Fat: 8 grams
Saturated Fat: 2.5 grams
Fiber: 2 grams
Sodium: 260 milligrams
Cholesterol: 10 milligrams
Protein: 8 grams
Carbohydrates: 20 grams
Sugars: 10 grams


Source: Splenda
Recipe and image appear courtesy of Splenda.