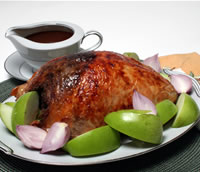 Ingredients

1 Granny Smith apple, peeled, cored and quartered
3/4 lb. large shallots, quartered
3 cups fat-free, reduced sodium chicken broth
1/2 cup apple cider
1 Tbsp. apple cider vinegar
2 Tbsp. flour
Salt and ground black pepper
1 cup roasted walnuts
1 1/2 tsp. dried thyme
1/4 tsp. ground sage
2 tsp. canola oil, divided
1/2 tsp. salt
Freshly ground black pepper
6-7 lb. whole turkey breast

Directions

Preheat the oven to 425 degrees.
In food processor, pulse roasted nuts with thyme and sage until coarsely ground. Add 1 teaspoon oil, 1 tablespoon water, 1/2 teaspoon salt and generous pinch of pepper. Whirl to a grainy paste.
Using hands, separate skin from turkey breast, taking care not to tear. Lift skin and push half of walnut paste under skin on each side of breast. Pull skin back into place and spread nut mixture in an even layer by smoothing the skin, using gentle pressure. Coat skin with remaining 1 teaspoon of oil.
Place breast upside-down on rack in roasting pan. Place apple and as many shallots as fit into cavity. Push three short bamboo skewers across opening to hold the filling in cavity, and turn breast right side up. Add broth and remaining shallots to pan.
Roast breast for 30 minutes. If breast is browned, tent loosely with foil. Reduce heat to 350 degrees and continue roasting until instant-read thermometer inserted almost to the bone registers 160 degrees, about 60 minutes. To re-crisp skin, remove foil for last 20 minutes. Transfer turkey to platter. Strain pan juices into measuring cup, discarding solids. Skim off as much fat as possible.
Set roasting pan on stove over medium-high heat. Pour in cider and vinegar, and boil, scraping up brown bits sticking to pan with wooden spoon. When liquid is reduced to 1/4 cup, off heat, whisk in flour. Return pan to heat, and stir until boiling gravy thickens, about 5 minutes. Pour into a sauceboat.
Remove turkey skin. Lift off walnut mixture, and set aside. Slice breast, arranging meat on a warmed platter. Set walnut stuffing beside it. Add apples and shallots from cavity, if desired. Serve, passing gravy separately.

Recipe Yield: Makes 10 servings.
Nutritional Information Per Serving:
Calories: 300
Fat: 9 grams
Saturated Fat: 1 grams
Fiber: 1 grams
Sodium: 200 milligrams
Protein: 44 grams
Carbohydrates: 11 grams