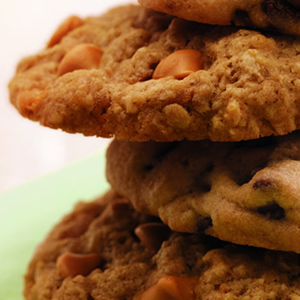 Ingredients

1-1/4 cups all-purpose flour
1 teaspoon baking soda
1/2 teaspoon ground cinnamon
1/2 teaspoon salt
1 cup (2 sticks) butter or margarine, softened
1/3 cup Splenda Sugar Blend for Baking
3/4 cup packed brown sugar
2 large eggs
1 teaspoon vanilla extract or grated peel of 1 orange
3 cups quick or old-fashioned oats
1 2/3 cups (11-ounce package)
Nestle Toll House Butter-scotch Flavored Morsels

Directions

Preheat oven to 375F.
Combine flour, baking soda, cinnamon and salt in small bowl. Beat butter, sugar blend, brown sugar, eggs and vanilla extract in large mixer bowl. Gradually beat in flour mixture. Stir in oats and morsels. Drop by rounded tablespoon onto ungreased baking sheets.
Bake 7 to 8 minutes for chewy cookies, 9 to 10 minutes for crisp cookies. Cool on baking sheets 2 minutes; remove to wire racks to cool completely.

Recipe Yield: Yield: about 4 dozen cookies``Serving size: 1 cookie
Nutritional Information Per Serving:
Calories: 130
Fat: 7 grams
Sodium: 90 milligrams
Cholesterol: 20 milligrams
Protein: 1 grams
Carbohydrates: 16 grams