Oat Recipes
Home / Diabetic Recipe Archive / Grain Recipes
Oat Recipes
Oat is a grain that is often found in baked goods and cereals. Eating wholegrains, like oats, can actually help prevent type 2 diabetes. This is a collection of recipes that include oats as an ingredient, such as oatmeal cookies. All of these oat recipes include nutritional information to make meal planning easier.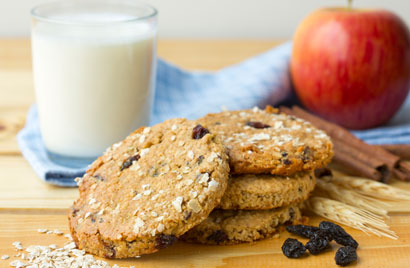 Recipe for Apple Oatmeal Raisin Cookies from our Desserts recipe section.
Most Downloaded Recipes in this Collection
All Recipes from this Category

Easy-to-make bar cookies will soon become a favorite. Oats add crunch and apricot spreadable fruit gives this cookie a rich fruit flavor. Recipe for Apricot Oatmeal Bars from our Snacks recipe section.