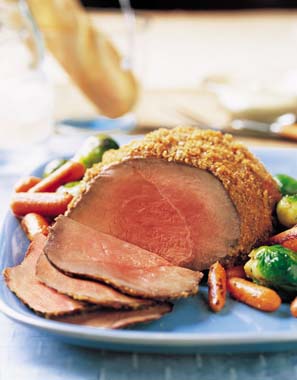 Ingredients

1 boneless beef round sirloin tip roast (3 pounds)
3 tablespoons Dijon-style mustard
1 tablespoon fresh thyme, chopped
1/2 teaspoon coarse grind black pepper
2 tablespoons dry bread crumbs

Vegetables:

1 pound small Brussels sprouts, trimmed
2 pounds packaged baby carrots
2 tablespoons olive oil
2 teaspoons fresh thyme, chopped
1 teaspoon salt
1/2 teaspoon coarse grind black pepper

Mustard Sauce:

1 tablespoon olive oil
1/4 cup minced shallots
1/2 cup Dijon-style mustard
2 teaspoons mustard seeds
1 teaspoon dry mustard
2 tablespoons fresh lemon juice
1/2 cup reduced-fat dairy sour cream
2 tablespoons chopped fresh parsley
1/4 teaspoon coarse grind black pepper

Directions

Heat oven to 325F. Combine 3 tablespoons Dijon-style mustard, 1 tablespoon thyme and 1/2 teaspoon pepper in small bowl. Spread mustard mixture evenly over all surfaces of beef roast. Press bread crumbs evenly onto roast over mustard.
Place roast on rack in shallow roasting pan. Insert ovenproof meat thermometer so tip is centered in thickest part of beef, not resting in fat. Do not add water or cover. Roast in 325F oven 1-3/4 to 2 hours for medium rare; 2-1/4 to 2-1/2 hours for medium doneness.
Meanwhile prepare vegetables. Cut shallow "X" into bottom of each Brussels sprout. Toss Brussels sprouts, carrots, oil, thyme, salt and pepper in large bowl. Transfer to metal baking sheet. Cover tightly with aluminum foil. Roast in 325F oven 1 to 1-1/4 hours or until crisp-tender. Uncover baking sheet; continue roasting 5 minutes or until lightly browned.
Remove roast when meat thermometer registers 140F for medium rare; 155F for medium. Transfer roast to carving board; tent loosely with aluminum foil. Let stand, covered, 20 minutes. (Temperature will continue to rise about 5F to reach 145F for medium rare; 160F for medium.)
Meanwhile prepare Mustard Sauce. Heat oil in small saucepan over medium heat until hot. Add shallots; cook and stir 3 to 5 minutes or until tender. Add Dijon-style mustard, mustard seeds and dry mustard; cook and stir 30 seconds. Remove from heat; stir in lemon juice until well blended. Add sour cream, parsley and pepper; stir until smooth. Keep warm.
Carve roast into thin slices. Serve with vegetables and Mustard Sauce.
Content Continues Below ⤵ ↷

Recipe Yield: Makes 12 servings
Nutritional Information Per Serving:
Calories: 265
Fat: 11 grams
Saturated Fat: 3 grams
Fiber: 3.2 grams
Sodium: 68 milligrams
Cholesterol: 74 milligrams
Protein: 28 grams
Carbohydrates: 14 grams


Source: The Healthy Beef Cookbook, published by John Wiley & Sons.