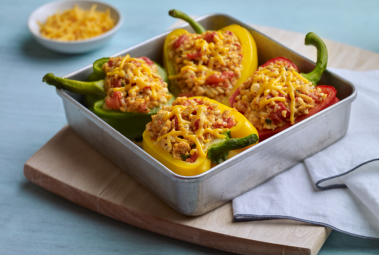 Ingredients

2 bell peppers, preferably a mix of yellow, green or red
1/2 (16-ounce) package Jennie-O Extra Lean Ground Turkey Breast
1/4 cup chopped onion
2 cloves garlic, minced
1 tablespoon fresh basil or 1 teaspoon dried basil leaves
1/4 teaspoon salt, if desired
1/4 teaspoon freshly ground black pepper
1 (14-1/2-ounce) can low-sodium diced tomatoes or seasoned diced tomatoes, drained
1/2 cup cooked white or brown rice
3/4 cup shredded low-fat Cheddar cheese, divided
paprika, if desired
fresh parsley, if desired

Directions

Heat oven to 375F.
Cut bell peppers lengthwise through stems keeping stem halves intact to hold stuffing. Discard seeds and veins.
Cook peppers in boiling salted water 5 to 6 minutes or until crisp-tender. Drain and immediately place peppers in ice water to stop cooking process. Drain peppers well and place cut side up in 8 x 8-inch baking dish.
Cook ground turkey as specified on the package. Always cook to well-done, 165F as measured by a meat thermometer.
Add onion, garlic, basil, salt, if desired, ground pepper, tomatoes, and rice; continue to cook 5 to 6 minutes or until heated through and most of the juices have reduced.
Remove meat mixture from heat and stir in 1/2 cup cheese.
Mound heaping 1/2 cup of mixture into each pepper half.
Bake 20 minutes or until filling is hot and peppers are tender.
Remove peppers from oven and sprinkle remaining 1/4 cup cheese on top of peppers. Sprinkle with paprika and parsley, if desired.

Always cook to an internal temperature of 165F. Learn how to safely handle turkey.

Recipe Yield: Yield: 4 servings
Nutritional Information Per Serving:
Calories: 160
Fat: 2.5 grams
Saturated Fat: 1 grams
Fiber: 3 grams
Sodium: 210 milligrams
Cholesterol: 30 milligrams
Protein: 20 grams
Carbohydrates: 14 grams
Sugars: 5 grams


Source: Jennie-O