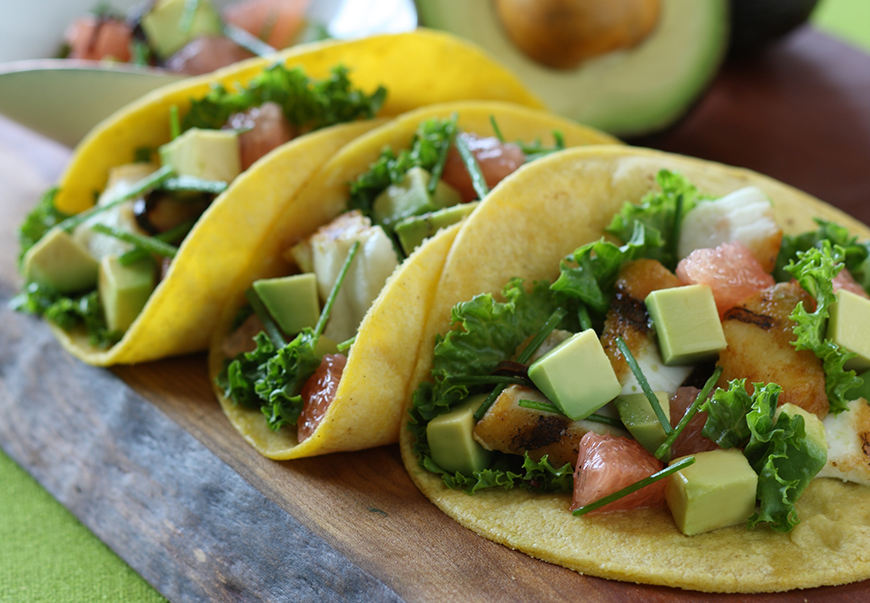 Ingredients
1 Fish Tacos Pacific halibut fillet
Extra virgin olive oil, for drizzling
Salt and freshly ground black pepper, to taste
8 (6-inch) corn tortillas, warmed
4 lettuce leaves
For California Avocado, Grapefruit and Toasted Ancho Salsa
2 medium Ancho chiles, wiped clean, stemmed and seeded
1 pink grapefruit, chilled
1 ripe Fresh California Avocado, halved, seeded and peeled
1/2 bunch chives, chopped
1/2 Cup freshly squeezed orange juice
1 Tbsp freshly squeezed lime juice
1-1/2 Tbsp extra virgin olive oil
1/2 tsp salt
1/4 tsp freshly ground black pepper
Directions
California Avocado, Grapefruit and Toasted Ancho Salsa: Toast Ancho chiles directly over a medium gas flame or in a cast-iron skillet until soft and brown. Turn frequently to avoid scorching. Slice toasted chiles into 1-inch strips, then into a fine julienne.
Slice ends off grapefruit and stand the fruit upright on your work surface. Cut away peel and membrane, exposing fruit. Working over a bowl to catch the juices, separate the grapefruit sections by slicing with a knife between membranes. Remove and discard seeds.
Cut grapefruit segments and avocados into 1/2-inch dice. Toss with toasted Ancho chiles and chives in a medium mixing bowl. Gently stir in reserved grapefruit juice, orange juice, lime juice, olive oil, salt and pepper. Let sit 30 minutes before serving.
Fish Tacos: On the stovetop, heat a grill pan over medium-high heat or prepare a medium-hot grill. Drizzle halibut with olive oil, season with salt and pepper, and grill until barely done, 2 to 5 minutes per side, depending on thickness. Remove fish from grill, cool slightly, and pull apart into large flakes.
Place warm tortillas on a work surface. Line each with a piece of lettuce and chunks of fish.
Top each with a generous spoonful of California Avocado, Grapefruit and Toasted Ancho Salsa. Serve immediately.
Notes:
Large avocados are recommended for this recipe. A large avocado averages about 8 ounces. If using smaller or larger size avocados adjust the quantity accordingly.
Content Continues Below ⤵ ↷

Recipe Yield: Yield: 4 servingsServing size: 2 tacos
Nutritional Information Per Serving:
Calories: 451
Fat: 18 grams
Saturated Fat: 2 grams
Fiber: 5.5 grams
Sodium: 568 milligrams
Cholesterol: 41 milligrams
Protein: 32 grams
Carbohydrates: 32 grams


Source: Recipe created by chefs Mary Sue Milliken and Susan Feniger for the California Avocado Commission. © courtesy of California Avocado Commission.