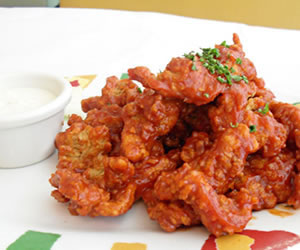 Ingredients

1-1/2 teaspoon hot sauce
Pinch cayenne
1/4 teaspoon paprika
1/2 pound chicken tenders

Dressing Ingredients:

1/2 cup reduced-fat blue cheese dressing
1/4 cup low-fat mayonnaise
3 tablespoons crumbled blue cheese
Celery Sticks

Directions

Preheat the oven to 375 degrees F.
In a shallow bowl, combine the hot sauce, cayenne, and paprika. Roll the chicken tenders in the mixture.
Place the chicken tenders on a small nonstick baking sheet.
Bake, uncovered, for 15 minutes until chicken is tender.
Combine the dressing ingredients.
Serve the dressing with the chicken and celery sticks.

Recipe Yield: Yield: 4 servings ``Serving Size: 2 oz. chicken per serving
Content Continues Below ⤵ ↷
Nutritional Information Per Serving:
Calories: 192
Fat: 12 grams
Sodium: 572 milligrams
Cholesterol: 42 milligrams
Protein: 14 grams
Carbohydrates: 7 grams
Sugars: 4 grams

Diabetic Exchanges
1/2 Carbohydrate, 2 Medium-fat Meat

Source: The Diabetes Food and Nutrition Bible
Book Title: The Diabetes Food and Nutrition Bible