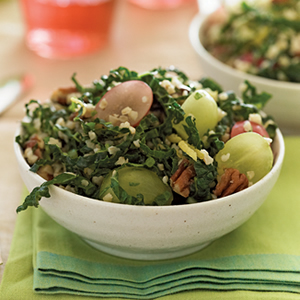 Ingredients

2 cups water
1 cup bulgur
Kosher salt
1 cup pecan halves, toasted and roughly chopped
2 cups seedless California grapes, halved
2 cups packed kale or Swiss chard leaves, finely slivered
1/2 cup Italian parsley, chopped
1/4 cup scallions, thinly sliced
1/4 cup lemon juice
2 tablespoons extra virgin olive oil
2 teaspoons lemon zest, finely grated
Pinch cayenne
Black pepper

Directions

Bring 2 cups of water to a boil in a medium saucepan.
Stir in bulgur and 1/2 teaspoon salt and remove from heat.
Cover and let stand 20 minutes or until most of water is absorbed.
Drain well and press to extract any excess water.
Let cool and stir in the remaining ingredients.
Season well with salt and black pepper.
Serve room temperature or chilled.

Recipe Yield: 6 Servings
Nutritional Information Per Serving:
Calories: 289
Fat: 17 grams
Sodium: 181 milligrams
Protein: 6 grams
Carbohydrates: 33 grams


Source: California Table Grapes