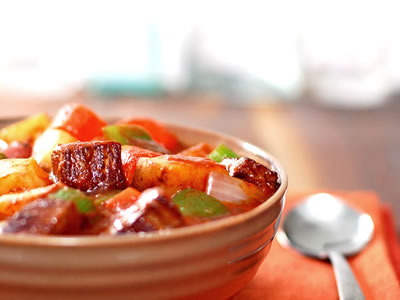 Ingredients

1 tablespoon oil
2 pounds Laura's Lean Eye of Round Roast cut into 2-inch cubes
2 cups sliced onions
4 cloves garlic, chopped
1 green bell pepper, sliced
4 large celery stalks, cut into 2-inch pieces
8 medium carrots
4 large baking potatoes (about 2 pounds) cut into eighths
1 28-ounce can whole tomatoes
1 15-ounce can tomato sauce
1 tablespoon soy sauce
1 teaspoon Worcestershire sauce
1 cup fat-free beef stock (double strength)
1 tablespoon dried basil
salt and pepper to taste

Directions

Preheat oven to 350 degrees.
Heat oil in skillet. On medium-high heat, sear meat cubes in skillet until browned on all sides.
In a separate bowl, combine canned tomatoes, tomato sauce, soy sauce, Worcestershire sauce, beef stock, basil, salt and pepper. Mix thoroughly. Pour mixture over meat and vegetables in roasting pan.
Cover and bake for 45 minutes at 350 degrees. Reduce heat to 250 degrees and bake for 2 hours or until meat is very tender to the fork. Baste occasionally.
Notes:
Prep Time: 25 minutes; Cook Time: 2 hours, 45 minutes. This recipe could be cooked in a crock-pot on low heat for 8 hours. Put it on before leaving for work and you'll have it ready to eat when you get home.

Recipe Yield: Makes 8 servings.
Content Continues Below ⤵ ↷
Nutritional Information Per Serving:
Calories: 260
Fat: 4.5 grams
Saturated Fat: 1.6 grams
Fiber: 8.8 grams
Sodium: 547 milligrams
Cholesterol: 51 milligrams
Protein: 31.9 grams
Carbohydrates: 27 grams

Diabetic Exchanges
1 starch; 2 vegetable; 4 very lean meat

Source: Lauras Lean Beef