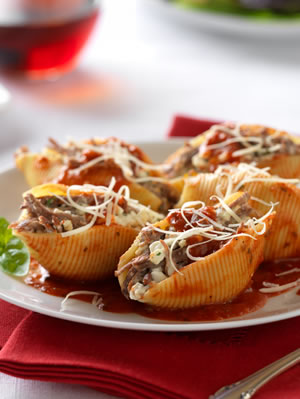 Ingredients

12 ounces cooked beef pot roast or brisket
20 uncooked jumbo pasta shells (about 8 ounces)
Filling:
1 cup lowfat cottage cheese
3/4 cup grated Parmesan cheese, divided
1 large egg, slightly beaten
1 tablespoon chopped fresh parsley or 2 teaspoons dried parsley leaves
2 cloves garlic, minced
Sauce:
1 jar (24 ounces) pasta sauce
Salt and pepper (optional)
Chopped fresh basil (optional)

Directions

Preheat oven to 375F. Prepare pasta shells according to package directions; drain. Set aside. Shred beef pot roast with two forks.
Meanwhile, combine pot roast, cottage cheese, 1/2 cup Parmesan cheese, egg, parsley and garlic in large bowl.
Fill shells evenly with beef mixture. Spread 1 cup pasta sauce on bottom of 11 X 7-inch glass baking dish. Arrange shells in dish; top with remaining sauce.
Cover with aluminum foil.
Bake in 375F oven 20 minutes or until heated through.
Remove foil; sprinkle with remaining 1/4 cup cheese.
Bake, uncovered, 5 to 8 minutes or until cheese is slightly browned and sauce is bubbly.
Season with salt and pepper, if desired. Garnish with basil, if desired.

Recipe Yield: Makes 4 servings
Nutritional Information Per Serving:
Calories: 364
Fat: 13 grams
Saturated Fat: 5 grams
Fiber: 4 grams
Sodium: 238 milligrams
Cholesterol: 119 milligrams
Protein: 40 grams
Carbohydrates: 20 grams


Source: TBC
Recipe and photo appears courtesy of Cattlemen's Beef Promotion Board.