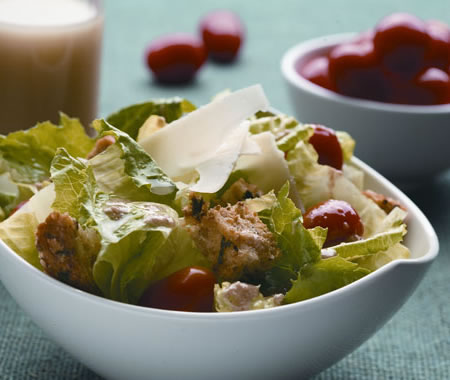 Ingredients
1 head Romaine lettuce, washed and trimmed, cut into bite size pieces
1-1/2 cups grape tomatoes (375 mL)
1/4 cup lemon juice (60 mL)
1 garlic clove, minced
1 1/2 tsp Worcestershire sauce (7 mL)
1 tsp dry mustard (5 mL)
1 tsp lemon zest (5 mL)
1/4 tsp freshly ground pepper (1 mL)
1/3 cup grated Parmesan cheese (75 mL)
1 (2 oz/75 mL) can anchovies
1 cup canola oil (250 mL)
4 thick slices whole grain bread, cut into cubes
2 Tbsp canola oil (30 mL)
2 Tbsp Parmesan cheese (30 mL)
dash of pepper
1 Tbsp Italian parsley, very finely chopped (15 mL)
Directions
In a large salad bowl, prepare lettuce and toss with tomatoes. Cover and refrigerate while preparing the dressing.
Combine lemon juice, garlic, Worcestershire sauce, dry mustard, lemon zest, freshly ground pepper and Parmesan cheese in a food processor. Blend on high speed for 30 seconds. With processor running, add canola oil in a fine stream and continue to blend until smooth.
Preheat oven to 350F (180C). Toss bread with canola oil, Parmesan cheese, pepper and Italian parsley. Spread on lightly greased baking sheet and bake about 20 minutes, until croutons are golden.
Pour desired amount of dressing over salad, add croutons and toss lightly. Top the salad with additional Parmesan cheese shavings. Serve immediately.

Recipe Yield: Yield: 4 to 6 servings.
Nutritional Information Per Serving:
Calories: 490
Fat: 46 grams
Saturated Fat: 4.5 grams
Fiber: 3 grams
Sodium: 570 milligrams
Cholesterol: 15 milligrams
Protein: 9 grams
Carbohydrates: 13 grams