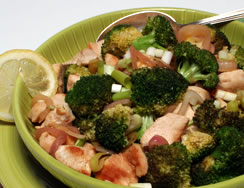 Ingredients

1/2 cup fat-free reduced-sodium chicken broth
3 Tbsp. fresh lemon juice
1/2 tsp. salt
1/8 tsp. ground white or black pepper
1 Tbsp. coconut oil, divided
1 lb. skinless and boneless chicken breast, cut into bite-size pieces
1 Tbsp. grated or finely chopped ginger, plus 1/2 tsp. ground ginger
2 garlic cloves, chopped
1/2 cup sliced leek, white and pale green parts, 2-inch pieces
1/2 cup thinly slice red onion, in crescents
3 cups broccoli florets, cut to bite-size
1/4 cup chopped scallions, green and white parts

Directions

In measuring cup, combine broth, lemon juice, salt and pepper. Set aside.
Heat a wok over high heat. When wok is hot, drizzle half of the oil around sides, then lift and swirl wok to coat it. Add chicken, and stir-fry until no pink color shows, 2 minutes. Scoop out chicken and place on plate.
Drizzle remaining oil into wok and swirl to coat. Add fresh ginger, ground ginger and garlic and stir fry until fragrant, 30 seconds. Add leek and onion and stir fry for 1 minute. Pour in broth mixture, cover wok and cook for 2 minutes until broccoli looks bright green. Return chicken to wok and stir fry until pieces are white in the center, 1 to 2 minutes. Turn contents of wok out onto serving platter. Sprinkle on scallions and serve.

Recipe Yield: Makes 4 servings.
Nutritional Information Per Serving:
Calories: 193
Fat: 5 grams
Saturated Fat: 3 grams
Fiber: 1 grams
Sodium: 452 milligrams
Protein: 29 grams
Carbohydrates: 8 grams


Source: AICR
Recipe and image appear courtesy of American Institute for Cancer Research.