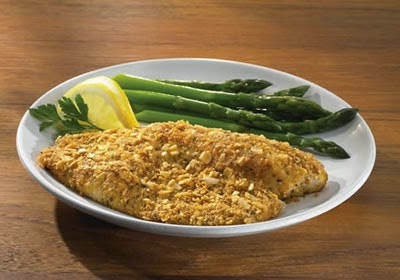 Ingredients

1/3 cup sliced almonds, finely chopped
1/4 cup plain dry bread crumbs
3 tablespoons grated Parmesan cheese
1/2 teaspoon McCormick Garlic Powder
1/2 teaspoon McCormick Paprika
1/2 teaspoon McCormick Parsley Flakes
1/4 teaspoon McCormick Black Pepper, Ground
1 pound tilapia fillets
Olive oil

Directions

Preheat oven to 450F. Mix almonds, bread crumbs, Parmesan cheese and seasonings in shallow dish.
Brush fish lightly with oil. Coat evenly with almond mixture. Place fish on greased foil-lined shallow baking pan.
Bake 10 to 12 minutes or until fish flakes easily with a fork.
Notes:
Adding an herb crust to tilapia is a great way to complement its mild flavor. Combine spices like garlic, paprika and black pepper with chopped almonds, bread crumbs and Parmesan cheese for an easy dinner. You can substitute red snapper, striped bass, flounder or sole for the tilapia..

Recipe Yield: Makes 4 servings.
Content Continues Below ⤵ ↷
Nutritional Information Per Serving:
Calories: 225
Fat: 9 grams
Fiber: 1 grams
Sodium: 202 milligrams
Cholesterol: 57 milligrams
Protein: 29 grams
Carbohydrates: 7 grams


Source: McCormick