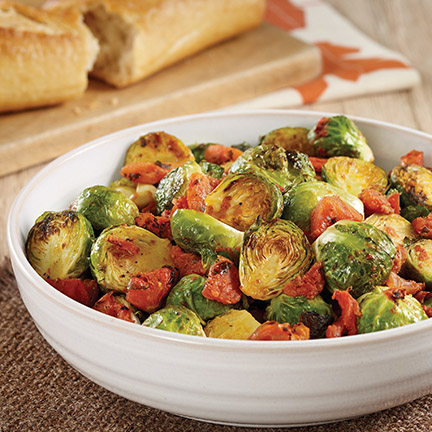 Ingredients

1 pound small fresh Brussels sprouts, trimmed and cut in half lengthwise
1 can (14.5 ounces) Hunt's Fire Roasted Diced Tomatoes, drained
2 tablespoons pure canola oil
1/4 teaspoon garlic powder
1/4 teaspoon salt
1/8 teaspoon ground black pepper

Directions

Heat oven to 425F.
In large bowl, toss together Brussels sprouts, drained tomatoes, oil, garlic powder, salt and pepper.
Spread mixture in single layer on large shallow baking pan.
Bake 20 minutes or until Brussels sprouts are tender and browned, stirring once halfway through.
Notes:
You can assemble this dish in the morning and slip them in the refrigerator, so all you have to do is slide them in the oven at dinner time.

Recipe Yield: Yield: 6 servings.
Content Continues Below ⤵ ↷
Nutritional Information Per Serving:
Calories: 75
Fat: 5 grams
Fiber: 2 grams
Sodium: 217 milligrams
Protein: 2 grams
Carbohydrates: 7 grams
Sugars: 2 grams


Source: Hunt's