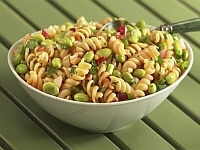 Ingredients

1 box Dreamfields Rotini
3 cups frozen shelled edamame
1 cup radishes, diced
1/2 cup packed fresh cilantro, stems removed, chopped
3 green onions, thinly sliced

Dressing:

3 tablespoons vegetable or canola oil
2 tablespoons pickled ginger, chopped
2 tablespoons rice wine vinegar
2 tablespoons light soy sauce
2 teaspoons sesame oil
1/2 teaspoon black pepper
1/2 teaspoon hot sauce
3 cloves garlic, minced

Directions

Prepare Dreamfields pasta according to package directions. With 3 minutes left to cook pasta, add edamame. Drain; rinse with cold water and drain again.
Meanwhile, in small bowl, whisk together dressing ingredients; set aside.
In large bowl, toss pasta and edamame with radishes, cilantro and green onions. Add dressing; toss to coat.
Serve at room temperature or cover and refrigerate to chill.

Recipe Yield: Makes 10 side dish servings.
Content Continues Below ⤵ ↷
Nutritional Information Per Serving:
Calories: 240
Calories from fat: 36
Fat: 7 grams
Saturated Fat: 1 grams
Fiber: 6 grams
Sodium: 183 milligrams
Protein: 11 grams
Carbohydrates: 0 grams


Source: Dreamfields