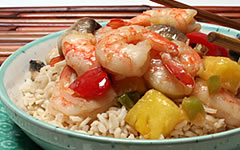 Ingredients

3/4 cup fat-free, reduced-sodium chicken broth, divided
2 tsp. cornstarch
2 Tbsp. lite Teriyaki sauce
1/8 tsp. ground pepper
2 Tbsp. canola oil, divided
3/4 lb. medium shrimp, shelled and deveined
1 Tbsp. grated or minced ginger
1 large garlic clove, minced
8 large white mushrooms, stemmed and quartered
1 cup diced green bell pepper
1 cup diced red bell pepper
1 cup fresh pineapple, in 1-inch cubes
Cooked brown rice

Directions

Pour 1/4 cup of broth into small bowl. Add cornstarch and whisk to blend. Add remaining broth, Teriyaki sauce and ground pepper. Set seasoning sauce aside.
In wok, heat 1 tablespoon of oil over high heat. Add shrimp and stir-fry until they look pink, 2-3 minutes. Turn shrimp out into bowl.
Add remaining oil to wok. Stir-fry ginger and garlic until fragrant, 30 seconds. Add mushrooms and peppers and stir-fry until mushrooms look moist, 2 minutes. Add pineapple and return shrimp to wok. Stir seasoning sauce and pour it into pan. Stir-fry until the sauce thickens and boils, about 2 minutes. The shrimp should be white in the center. Serve immediately. Can be accompanied by cooked brown rice, if desired (not included in nutritional information).

Recipe Yield: 4 servings.
Nutritional Information Per Serving:
Calories: 200
Fat: 9 grams
Saturated Fat: 1 grams
Fiber: 2 grams
Sodium: 190 milligrams
Protein: 20 grams
Carbohydrates: 13 grams


Source: AICR
Recipe and image appear courtesy of American Institute for Cancer Research.