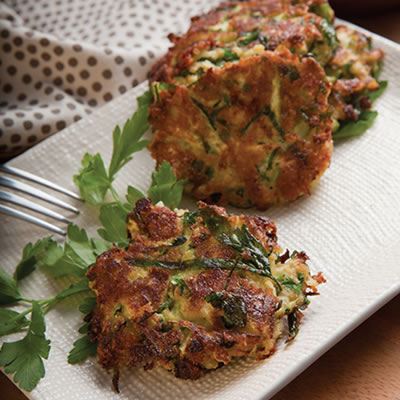 Ingredients

4 large eggs, separated
2 medium zucchini, trimmed and grated
1/2 cup grated Parmesan cheese
1/2 cup shredded whole-milk mozzarella cheese
1/4 cup parsley, chopped
1/4 cup fresh basil, chopped
1/4 cup coconut-flax flour blend (To make, mix equal parts coconut flour with ground flaxseed and refrigerate in an airtight container)
1/2 teaspoon baking powder
1/8 teaspoon ground nutmeg
1/4 teaspoon salt
Canola or olive oil cooking spray
3 teaspoons canola or virgin olive oil

Directions

Place egg whites in large mixing bowl. Using electric mixer, beat on high speed until stiff peaks form and whites cling to sides of bowl when tilted. Set aside.
Place egg yolks, zucchini, Parmesan, mozzarella, parsley, basil, coconut-flax flour blend, baking powder, nutmeg and salt in another large bowl. Stir well until zucchini is coated with flour. Using rubber spatula, gently fold in egg whites until just combined. There will be streaks of egg whites.
Coat large skillet with cooking spray. Warm skillet over medium-high heat and add one 1 teaspoon of oil. Using 1/4-cup measure, pour out 4 fritters. Cook 2-3 minutes on each side, until lightly browned. Transfer to plate. Repeat twice, using 1 teaspoon of oil and four 1/4 measures of batter each time.
Serve immediately or refrigerate, covered in aluminum foil and reheat when ready to serve.

Recipe Yield: Yield: 6 (2-fritter) servings
Nutritional Information Per Serving:
Calories: 159
Fat: 11 grams
Protein: 11 grams
Carbohydrates: 5 grams


Source: Atkins