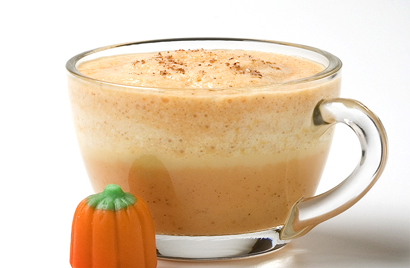 Ingredients

12 jumbo eggs
5 cups 2 percent milk
2 cups Equal Granular sweetener (Spoonful) or 48 packets Equal sweetener
1/2 cup pumpkin puree (canned or homemade)
2 teaspoons ground cinnamon
groud nutmeg

Directions

Whisk eggs and milk in large heavy saucepan. Cook and stir over medium heat until the mixture coats a metal spoon. DO NOT BOIL. Remove from heat
Place pan in a large bowl of ice water and stir frequently 5 minutes.
Stir in Equal, pumpkin, vanilla and ground cinnamon.
Cover and chill eggnog mixture at least 2 hours before serving
Garnish with ground nutmeg just before serving.

Alcoholic Option: Add 3 cups spiced rum during step 3.
Notes:
Egg nog with a harvest twist, this indulgent drink makes enough to serve a crowd.

Recipe Yield: Yield: 12 servings
Content Continues Below ⤵ ↷
Nutritional Information Per Serving:
Calories: 167
Fat: 8 grams
Sodium: 167 milligrams
Cholesterol: 283 milligrams
Protein: 12 grams
Carbohydrates: 10 grams

Diabetic Exchanges
1 med-fat meat, 1/2 milk

Source: Recipe created by Tony Abou-Ganim, Modern Mixologist.