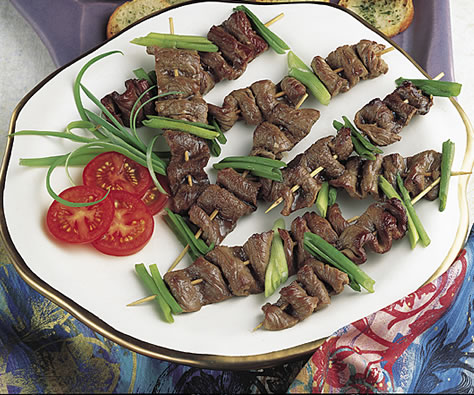 Ingredients
1 pound beef Top Sirloin Steak Boneless, cut 1 inch thick
1/4 cup hoisin sauce
2 tablespoons dry sherry
2 teaspoons packed light brown sugar
1 teaspoon dark sesame oil
6 green onions, sliced diagonally into 1-1/2-inch pieces
Directions
Soak sixteen 6-inch bamboo skewers in enough water to cover 10 minutes; drain.
Meanwhile combine hoisin sauce, sherry, brown sugar and sesame oil; set aside.
Trim fat from beef steak. Cut steak crosswise into 1/4-inch thick strips. Alternately thread beef, weaving back and forth, and green onion pieces onto skewers.
Place kabobs on rack in broiler pan so surface of kabobs is 3 to 4 inches from heat. Brush with half of hoisin mixture. Broil 9 to 12 minutes, turning once, and brushing with remaining hoisin mixture.

Recipe Yield: Yield: 16 appetizers
Nutritional Information Per Serving:
Calories: 53
Fat: 2 grams
Sodium: 47 milligrams
Cholesterol: 19 milligrams
Protein: 7 grams
Carbohydrates: 2 grams


Source: TBC
Recipe and photo appears courtesy of Cattlemen's Beef Promotion Board.