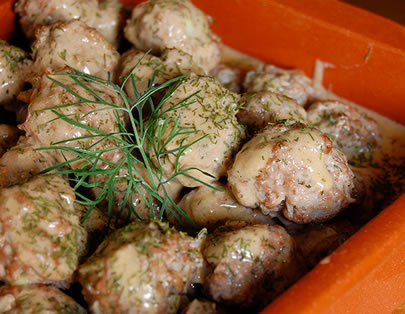 Ingredients

1 lb Laura's Lean Beef 92% Lean Ground Beef
2 tbsp fine, plain bread crumbs
1-1⁄4 tsp dried dill or 1 tablespoon fresh dill (chopped)
1⁄2 finely chopped onion
1 egg
1⁄4 tsp allspice
1 tbsp butter
1 tbsp flour
1 cup beef stock
1 cup skim milk
1 tbsp sour cream
1⁄4 tsp black pepper

Directions

Heat oven to 350F. In bowl, combine beef, bread crumbs, 1 teaspoon dill, onion, egg and allspice. Mix well. Form mixture into1 tablespoon meatballs. (You should have about 32 meatballs). Place meatballs on broiling rack and bake about 10 minutes, until no pink is left in meatballs.
While meatballs are baking, heat butter in saucepan over medium high heat. Whisk in flour and cook about 4 minutes, stirring constantly. Slowly whisk in beef stock, and whisk over heat until no lumps are left. Continue whisking and slowly add skim milk, again whisking until no lumps are left. Reduce heat to medium low and cook about 5 minutes, stirring often. Remove from heat. Stir in remaining dill, sour cream and black pepper.
When meatballs are done, add to sauce in pan, heat all through and serve immediately.

Recipe Yield: Yield: 4 servings
Nutritional Information Per Serving:
Calories: 170
Fat: 8 grams
Fiber: 1 grams
Sodium: 141 milligrams
Cholesterol: 78 milligrams
Protein: 12 grams
Carbohydrates: 14 grams


Source: Lauras