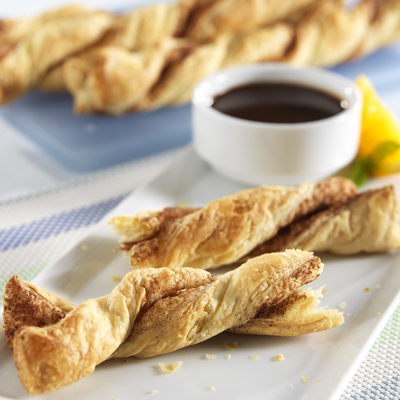 Ingredients

For Cinnamon Twists

2 tablespoons Splenda No Calorie Sweetener, Granulated
1 tablespoon cinnamon
2 boxes frozen puff pastry, thawed
1/4 cup melted unsalted butter

For Chocolate Sauce

1 cup milk
1 tablespoon Splenda No Calorie Sweetener, Granulated
Juice & zest of 1/4 orange
1/2 cup semi sweet chocolate morsels

Directions

For Cinnamon Twists

Content Continues Below ⤵ ↷

Preheat oven to 400F.
Mix Splenda Granulated Sweetener and cinnamon together in a small bowl.
Granulated Sweetener and cinnamon together in a small bowl.
Unfold sheets of puff pastry. Brush each sheet with butter and sprinkle generously with the cinnamon mixture. Lay 2 sheets of puff pastry on top of each other. Cut into 6 strips, lengthwise. Repeat with the next 2 sheets.
Twist each strip, so each set of two strips wrap around each other. Place onto an ungreased cookie sheet.
Bake for 15-20 minutes or until golden brown.
Serve with the Chocolate Sauce.
For Chocolate Dipping Sauce

Heat all ingredients except chocolate in a mediums sauce pan. Add chocolate and stir constantly until chocolate melts and is well mixed, about 10 minutes.
Serve warm alongside the Cinnamon Twists.
Notes:
Here's a healthier twist on a churro — twisted dough is sprinkled with cinnamon-sugar and dipped in chocolate.

Recipe Yield: Yield: 12 servingsServing Size: 1 twist, 2 tablespoons sauce
Nutritional Information Per Serving:
Calories: 140
Fat: 10 grams
Saturated Fat: 5 grams
Fiber: 1 grams
Sodium: 75 milligrams
Cholesterol: 10 milligrams
Protein: 2 grams
Carbohydrates: 11 grams
Sugars: 5 grams


Source: Splenda
Recipe and image appear courtesy of Splenda.