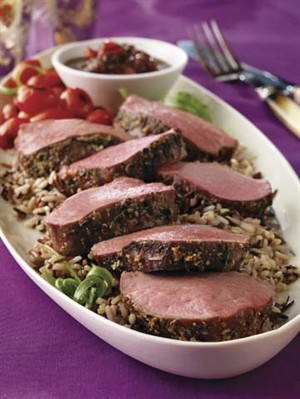 Ingredients

1 beef Tenderloin Roast Center-Cut (2 to 3 pounds)
1/4 cup freshly grated Parmesan cheese
3 tablespoons fresh thyme, chopped, divided
1/2 teaspoon ground black pepper
1 tablespoon olive oil
8 ounces cremini or button mushrooms, sliced
2 cups finely diced fresh tomatoes
1 cup ready-to-serve beef broth
1/2 cup dry red wine
Salt and pepper

Directions

Heat oven to 425F. Combine cheese, 2 tablespoons thyme and 1/2 teaspoon pepper; roll roast in cheese mixture to cover all surfaces.
Place roast on rack in shallow roasting pan. Insert ovenproof meat thermometer so tip is centered in thickest part of beef. Do not add water or cover. Roast in 425F oven 35 to 45 minutes for medium rare; 45 to 50 minutes for medium doneness.
Meanwhile heat oil in large nonstick skillet over medium heat until hot. Add mushrooms; cook and stir 5 to 7 minutes or until mushrooms are tender and browned. Add tomatoes, broth, wine and remaining 1 tablespoon thyme; bring to a boil. Reduce heat; cook an additional 25 to 30 minutes or until sauce is reduced to 2 cups and is a rich, brown color, stirring occasionally. Season with salt and pepper, as desired.
Remove roast when meat thermometer registers 135F for medium rare; 145F for medium. Transfer roast to carving board; tent loosely with aluminum foil. Let stand 15 to 20 minutes. (Temperature will continue to rise about 10 to 15F to reach 145F for medium rare; 160F for medium.)
Carve roast into slices. Season with salt, as desired. Serve with Savory Mushroom Sauce.

Recipe Yield: Yield: 8 servings
Nutritional Information Per Serving:
Calories: 226
Fat: 10 grams
Saturated Fat: 3 grams
Fiber: .9 grams
Sodium: 205 milligrams
Cholesterol: 69 milligrams
Protein: 27 grams
Carbohydrates: 4 grams


Source: NBCA