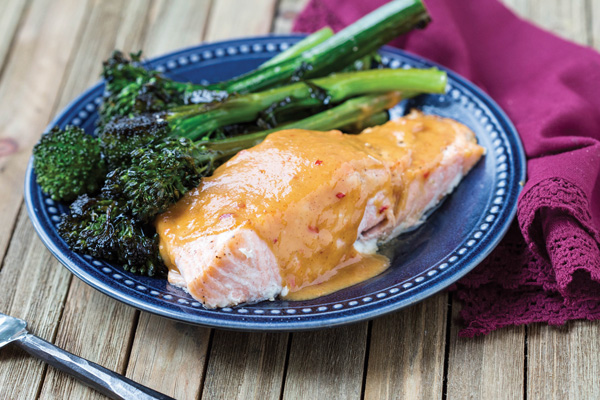 Recipe Yield: 4
Ingredients
1 pound salmon
1 teaspoon olive oil
freshly ground pepper, to taste
1/4 cup peanut butter
2 teaspoons chili garlic sauce
1/4 cup 100 percent orange juice


Directions
Heat oven to 400F and line baking sheet with aluminum foil.
Place salmon on baking sheet, drizzle with olive oil and season with pepper, to taste.
Bake salmon 15-20 minutes until cooked through.
In small sauce pot over medium-low heat, whisk together peanut butter, chili garlic sauce and orange juice, and cook until warm.
To serve, pour peanut butter sauce over salmon.

Nutritional Information Per Serving:
Calories: 334
Fat: 23 grams
Saturated Fat: 5 grams
Fiber: 1 grams
Sodium: 173 milligrams
Cholesterol: 50 milligrams
Protein: 27 grams
Carbohydrates: 5 grams
Sugars: 3 grams


Source: Georgia Peanuts