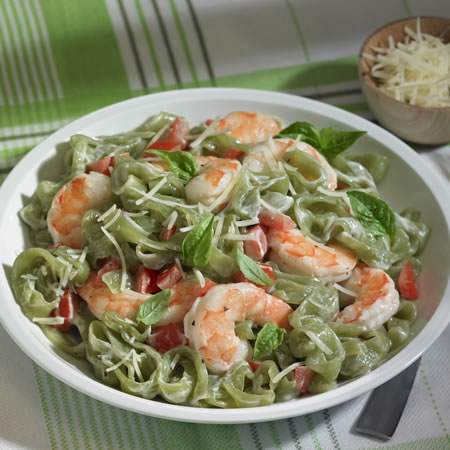 Ingredients

2 (8 oz) packages Skinny Noodles Spinach Fettuccine
1 pound medium shrimp, peeled and deveined
2 green onions, chopped
2 garlic cloves, minced
2 tsp olive oil
1/2 Cup (2 oz.) grated Parmesan cheese
1/2 Cup fat-free half-and-half
3 Tbsp (1.5 oz.) fat-free cream cheese
1/4 tsp freshly ground black pepper
2 Tbsp chopped fresh parsley (optional)

Directions

Drain and rinse Skinny Noodles thoroughly.
Parboil Skinny Noodles Spinach Fettuccine for 2-3 minutes; drain and set aside.
Combine shrimp, onions, and garlic in a small bowl.
Heat a large skillet over medium-high heat.
Add olive oil; swirl to coat.
Add shrimp mixture, and saute for 4 minutes or until shrimp are done. Remove from pan; keep warm.
Reduce heat to medium. Add Parmesan, half-and-half, cream cheese, and pepper to pan. Cook 2 minutes or until cheeses melt.
Combine pasta, cheese mixture, and shrimp mixture.
Sprinkle with parsley, if desired.

Recipe Yield: Makes 4 servings
Nutritional Information Per Serving:
Calories: 247
Fat: 8 grams
Fiber: 4 grams
Protein: 31 grams
Carbohydrates: 9 grams


Source: Skinny Noodles