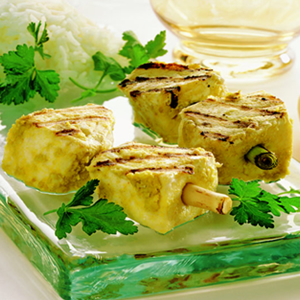 Ingredients
2 tablespoons vegetable oil
1 tablespoon green curry paste
1 tablespoon freshly grated gingerroot
1 tablespoon rice wine vinegar
1 teaspoon nam pla or bottled Thai fish sauce
1 teaspoon toasted sesame oil
1-1/2 pounds Alaska Halibut steaks or fillets, skin and bones removed, cut into 1 1/2-inch pieces
12 fresh lemon grass stalks, about 1/4-inch in diameter and 6 inches long

If using the packaged lemon grass stalks available in the produce section of the grocery store, you can cut them lengthwise into 4 more slender stalks to use as skewers. Green curry paste, Thai fish sauce and toasted sesame oil are available in the Asian section of the store.
Directions
In small bowl, thoroughly blend oil, curry paste, ginger, rice wine vinegar, fish sauce and sesame oil. Brush paste on Alaska Halibut pieces; cover and refrigerate 30 minutes.
Preheat grill or broiler/oven to medium-high heat.
Thread halibut onto lemon grass skewers, 2 to 3 pieces per skewer. Place skewers on well-oiled grill or spray-coated broiling pan.
Grill or broil halibut 5 inches from heat source, 4 to 5 minutes per side, turning once during cooking. Cook just until fish is opaque throughout.
Notes:
Fresh lemon grass skewers add a fragrant citrus note to halibut.
Content Continues Below ⤵ ↷

Recipe Yield: Yield: 4 to 6 servings
Nutritional Information Per Serving:
Calories: 215
Fat: 10 grams
Sodium: 167 milligrams
Cholesterol: 44 milligrams
Protein: 29 grams
Carbohydrates: 2 grams


Source: Recipe and photo appear courtesy of Alaska Seafood Marketing Institute.